You can now learn Original Chinatown JKD strategies and techniques handed down by 1st and 2nd generation students of Bruce Lee from the comfort of your own home.
JKDLessons.com will give you the rare opportunity of learning the authentic Chinatown-era JKD techniques as handed down by Bob Bremer, Tim Tackett and Jim Sewell.
We are on a mission to bring you knowledge that up until now has been largely unavailable to the general public. The lessons in JKDLessons.com offer insight into a variety of topics from foundational techniques to advanced strategies, as well as historical techniques and sets never before revealed on video.
By learning the Jeet Kune Do structure you will get specialized understanding of the philosophy behind JKD, which will enable you to dissect all other martial arts through your own "JKD Filter" (or a "BS filter" as Sifu Tackett calls it).
Using the knowledge gained from our lessons with this philosophy of growth and experimentation, the sky is the limit on what can be accomplished.
You too can learn the arsenal of Bruce Lee and his Chinatown-era Jeet Kune Do that made this simple yet sophisticated art famous for it's devastating effectiveness.
Start Learning Today!
Learn Authentic Chinatown JKD! Get access to a "one of a kind" training program using our interactive training system
Pure Techniques – A lot of Jeet Kune Do taught these days are "watered down" material without regard to the founding principles of the founder, Bruce Lee. Through us you will have access to this material in its purest form, not to confine us but to liberate us, to share with others what we have learned, and to discover your personal expression of Sijo Bruce's art
Top Notch Instruction By Authorities In Chinatown JKD – Learn Chinatown JKD from Sifu Jeremy Lynch and Sifu D.M. Blue, both certified Senior Full Instructors under Bob Bremer, Tim Tackett and Jim Sewell (Bob and Jim are direct students of Sijo Bruce Lee)
Linear, Progressive Curriculum – The order in which you learn the material of Chinatown JKD greatly affects the time it takes for you to make it your own. Learn the techniques in the exact lesson format you would receive as a private student of Chinatown JKD
Hours of Content – The Level 1 video curriculum has over 15 hours video alone! Level 2 Available Now! (see below)
Beginners Welcome! We use a step-by-step developmental process with a logical linkage between lessons that will take you from a rank beginner to a functional fighter.
Lesson Notes – Bruce Lee took copious notes about his training and as a JKD students we do the same. Download the worksheets for each video lesson and create your own work book
Get Functional! Access dozens of exercises and drills to develop your JKD stand-up game instantly
For the first time ever, learn all the techniques and nuances required for rank advancement in Chinatown JKD! (Get an inside look at the technical foundation expected at each level)
iPhone / iPad Compatible for the streaming video lessons!
This Is The Next Best Thing To Being There "Live" And In-Person!
Here's what to do next…
Choose one of the two options below to get access to your lessons.


Here's a Sneak Peek inside the member's area: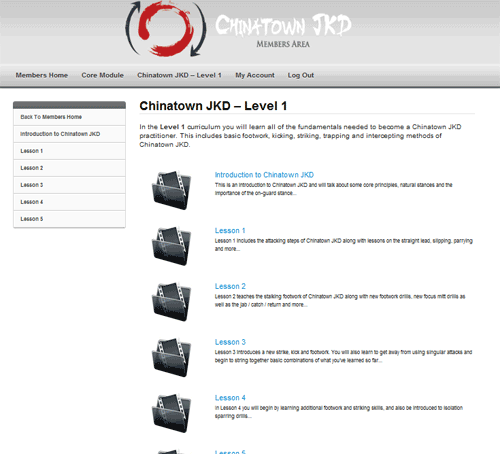 Here's a snapshot of one of the lesson pages: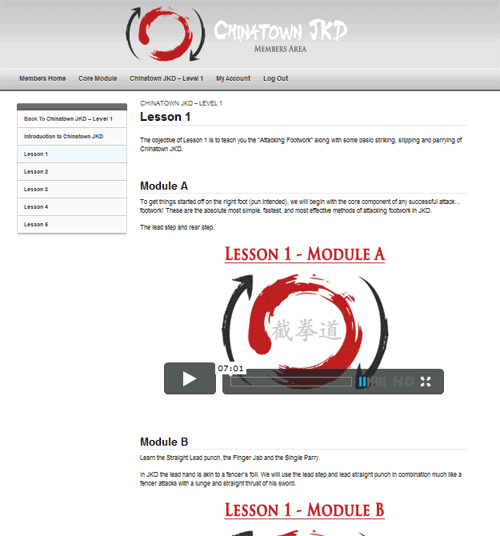 Frequently Asked Questions:
Q: How Do I Sign Up As A Member?
A: You can get access to our Premium Members area by choosing one of the membership levels above. Once you've have placed your order, you will get immediate access to all of the Chinatown JKD Level 1 curriculum.
Q: Do I have to sign a contract to become a Premium Member?
A: No, there are no contracts. Each member level is a one-time payment.
Q: I only see Level 1 curriculum. How do I access the Level 2 material?
A: The Level 2 curriculum is still available here. Looking for Level 3? You can find it here.
Q: How much do the lessons cost?
A: Please check the corresponding pages (for Level 1 and 2) for the latest prices. There are currently over 25 hours of concise instruction. Each lesson include multiple videos (generally 2 – 4 videos per lesson) and a lesson worksheet (for Level 1).
Q: Once I become a member of JKD lessons, how long will it be in my library for?
A: Once you've become a premium member, the lessons (for the level you purchased) will be available in the member's area for unlimited viewing, forever.
Q: What is the refund policy on your online lessons?
A: If you are not satisfied with the online lessons, you can cancel within 5 days and we will give you a 100% refund.
Q: What's the difference between the JKDLessons.com and other online courses?
A: The lessons in the JKDLessons.com is structured to be a progressive curriculum and designed to accelerate the learning process of Chinatown JKD.
It is the first online video training course on Chinatown JKD – the curriculum and techniques taught by Bob Bremer, Tim Tackett, Jim Sewell. If you have ever wanted to learn authentic Chinatown JKD, this is for you.
Q: What are the necessary system requirements to view the lessons?
A: It is designed to run on both PC and Mac multi-media platforms with a broadband connection. The lessons are also compatible for iphone / ipad (and other smartphone applications).
Q: Is there a limit to how often I can view each lesson?
A: No. You have unlimited viewing capability.